With cooler temperatures and the holidays season coming up, pumpkin inspired dishes seem to always steal the show! If you consider yourself a "pumpkin-holic," keep reading for more than a few healthy pumpkin recipes that celebrate the season.
Low Carb/Calorie Pumpkin Protein Cookies
Ingredients:
*1/4 cup ground flax seed,
*2 tablespoons chia seeds,
*1/8 cup of ground cinnamon,
*3 large eggs
*2 teaspoons vanilla
*1/4 cup of light almond milk
*1/4 cup Stevia in the raw
*2 servings whey protein powder
*1 teaspoon baking soda
*1 teaspoon baking powder
*1 can (15 oz) pumpkin
-Preheat oven to 350 degrees.
-Add all the ingredients to a mixing bowl and combine well.
-Grease a baking sheet and drop(3 tablespoons)  a spoonful of pumpkin onto the pan. Spread it out into a cookie form.
Bake the cookies 10-12 minutes. Store the cookies in the refrigerator.
Here are some more pumpkin favorites:
---
Healthy Homemade Pumpkin Spice Latte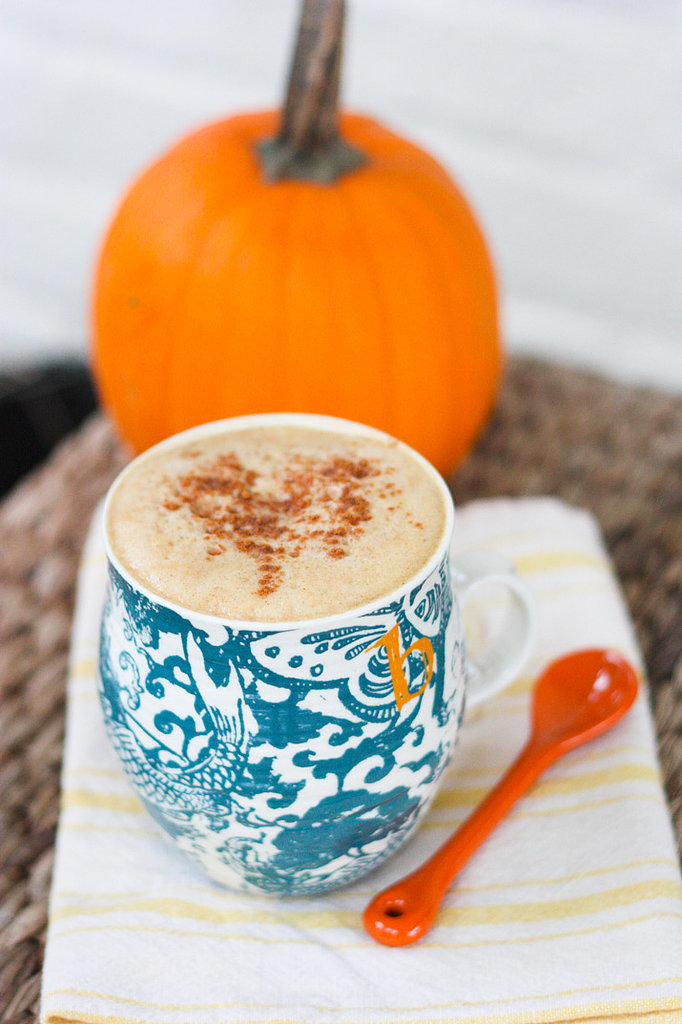 Nothing signifies the start of Fall quite like a pumpkin spice latte, but skip the sugary Starbucks latte for this healthy homemade version instead.
Pumpkin Pie Smoothie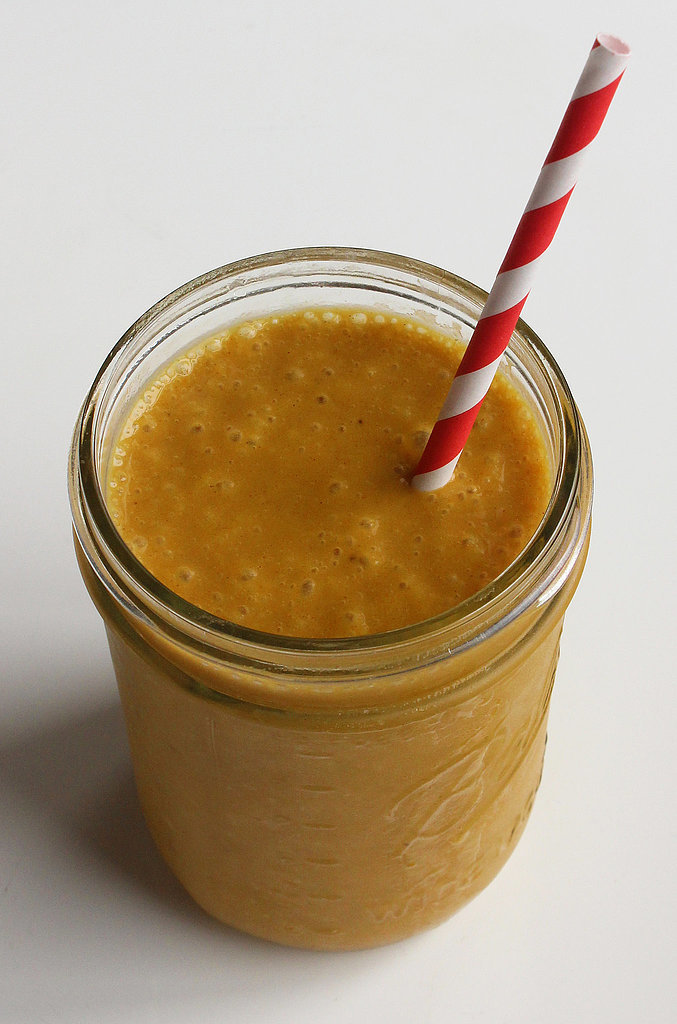 If you have ever craved a slice of pumpkin pie for breakfast, this pumpkin pie smoothie is a healthy and sweet alternative that's just as filling as a slice of pie.
Pumpkin Pie Muffins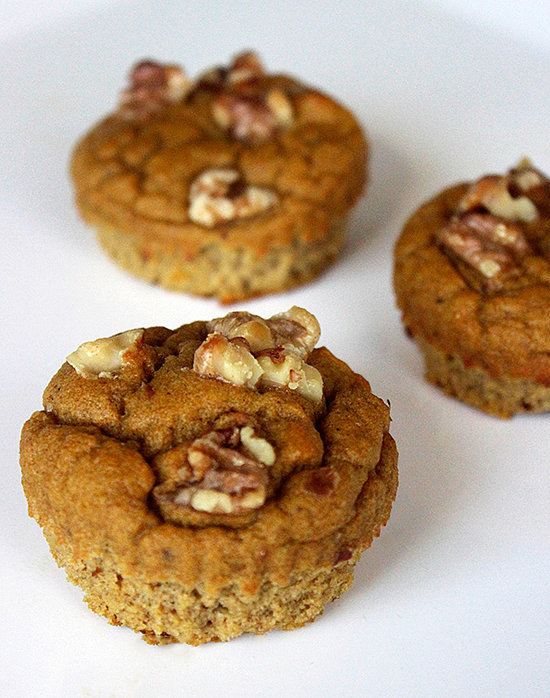 These pumpkin pie muffins are not only gluten- and dairy-free, but they're also light, fluffy, and delicious.
Pumpkin Chia Almond Butter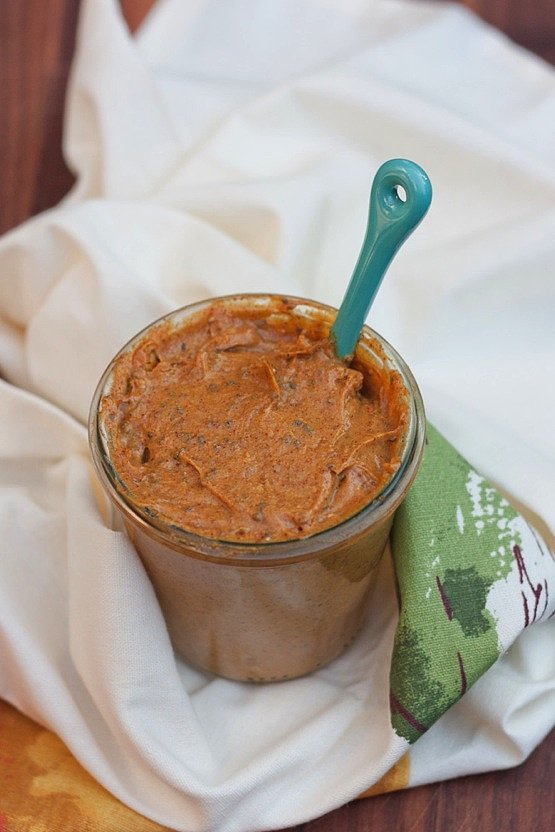 With the ingredients that go into this, it's hard not to love this pumpkin chia almond butter. Full of Fall spices, this seasonal nut butter is a great addition to your bowl of oatmeal.
Pumpkin Coconut Bisque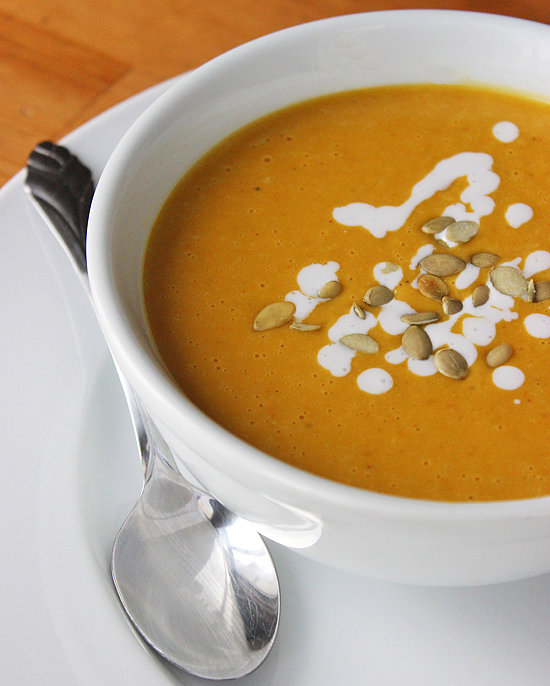 This pumpkin coconut bisque tastes so creamy and rich, it's hard to believe that it doesn't contain an ounce of dairy. This is a recipe both vegans and those following the Paleo diet can enjoy!
Vegan Pumpkin Custard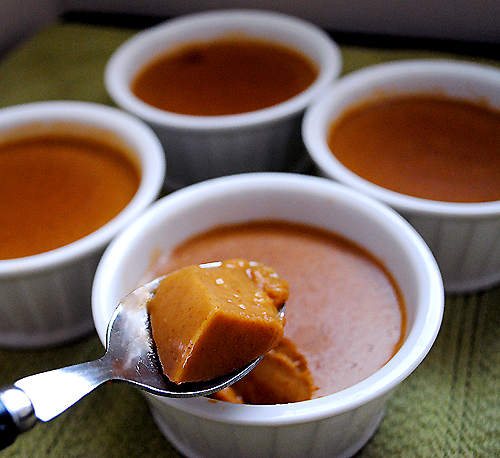 A lot of the calories from pumpkin pie are contained in the buttery, flaky crust. Skip the flour and go for this vegan pumpkin custard instead. A cross between crème brulée and traditional pumpkin pie filling but with a slightly creamier texture, it's so heavenly that you won't miss the crust!
Baked Pumpkin Ravioli
Enjoy pumpkin for dinner by whipping up a batch of these baked pumpkin ravioli — one serving of this Fall favorite brings in a whopping 10 grams of protein. Before the idea of homemade pasta scares you off, rest assured this recipe can easily be made with ready-made wonton wraps.
Skinny Pumpkin-Banana Bars
No one will ever guess that the recipe for skinny pumpkin-banana bars is light and low-cal — they're that good. They can also be made vegan with a few simple swaps.
Pumpkin Spice Trail Mix
You'll love this pumpkin spice trail mix, whether it's sprinkled atop yogurt, served with milk, or eaten on its own during a Fall hike. Full of fiber, protein, and antioxidants, it's exactly what you need to power through the day.
Oatmeal Pumpkin Spice Bread
Stock up on your favorite pumpkin puree and then make a batch of this oatmeal pumpkin spice bread. The added oats increase fiber and also add a chewy texture to the bread, resulting in a much denser loaf.
Pumpkin Spice Smoothie
If you crave the taste of pumpkin but are watching your grain intake, try this pumpkin spice smoothie. This healthy frozen treat is the perfect mix of milkshake, ice cream, and frozen yogurt with an extra helping of protein.
Pumpkin Pancakes
Pancakes don't have to be a breakfast-only meal, especially when it's a stack of these pumpkin pancakes. The maple yogurt topping helps give the dish a sweetness that makes it feel like dessert.
Pumpkin Pie Quinoa Breakfast Bake
There's nothing quite like pumpkin pie for breakfast! The ease of Healthful Pursuit's pumpkin pie quinoa breakfast bake cannot be beat: mix all of the ingredients together and then pop it in the oven!
Source:  PopSugar